---
AES Systems LLC,  Tbilissi Georgia.
Professional Premium Sound-Acoustics Solutions, BOSCH Security and Conference Systems  
Demo and Service Center.
---

---
Contact for trainings, project owners, system integrators, architects, consultants, planers and for rental.
info@aes-system.com
---
Small, medium or lange projects, we offer  free acoustical premium sound measurment with 
L- ACOUSTICS SOUNDVISION
3 Dimensional acoustical simulations software.
---
---
     AES Systems is a Bosch Security Systems and Communications added value distributions Partner and System Integrator supplyer
in Georgia.
our product
and service portfolio includes:
         Bosch Security Systems is a global supplier of security, safety, and communications products, solutions and services.
                                                                          Bosch offers not only a  
innovative product range, but also a business 
partner program for planners, system integrators, installers , 
with AES Systems local presence 
Bosch is always close to where its
 customers are, and guarantees a high level of service in Armenia.
Video surveillance systems, video over IP, intelligent video analysis, video for use in extreme
conditions
Fire Alarm Systems, Voice Evacuation Systems, Fire Alarm Remote Control Systems, 
Intrusion Alarm Systems
 Access Control Systems
   Professional Audio Systems
Conference Systems
---
Video surveillance systems, video over IP, intelligent video analysis,
    video for use in extreme conditions
Prevention  of Terrorism. Bosch Intelligent Video Analysis 
Terrorism in its many possible forms – bomb threats, suicide attacks, sabotage, hijacking of aircraft – needs to be prevented and/or responded to. Dealing with fire and explosion risks Special protection for passengers and employees Prevention of illegal immigration Identification and checking of abandoned bags Access control for restricted areas.

Intelligent Video Analysis IVA  with Al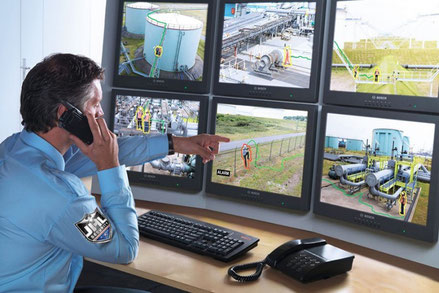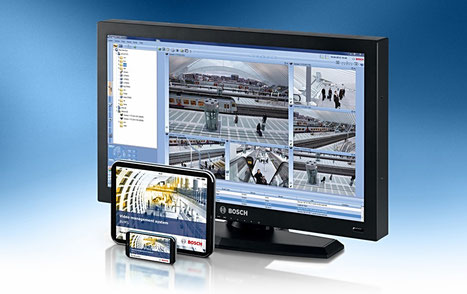 The next generation of the Intelligent Video Analysis system by Bosch. IVA is the guard-assistant system of choice when you need reliable video motion detection for indoor or outdoor use.
The Bosch Video Management System IVA with forensic search until 200.000 Cameras  is a unique enterprise IP video security solution that provides seamless management of digital video, audio, and data across any IP network.
---
Fire Alarm Systems  with Voice Evacuation System
Fire Alarm Remote Control
 Minimise your false alarm
Maximize your 
detection 
performance!
AVENAR detector 4000 from Bosch Security Systems. The new eSMOG feature provides constant monitoring of environmental conditions. AVENAR detector 4000
The next level of precision offers eight different automatic fire detectors with different kind of sensors.

  FPA-5000 Fire Panel  Addressable  Modular System 
 Modular configuration allowing for easy extension Interconnection of up to 32 Panel Controllers, Remote Keypads, and OPC servers u Multiple CAN loop connection with highperformance Ethernet backbone and redundancy Installation and auto-detection of functional modules by simply plugging them into the panel rail Connection to BIS Building Integration System via OPC server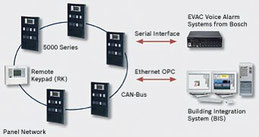 Video based very fast Fire detection, detects in seconds
                            AVIOTEC IP starlight 8000 – See it before it spreads
AVIOTEC IP starlight 8000 is a new solution for reliable and early fire detection in challenging environments. It can also secure areas where no other solutions exist.




---
  Fire Alarm Remote Services over IP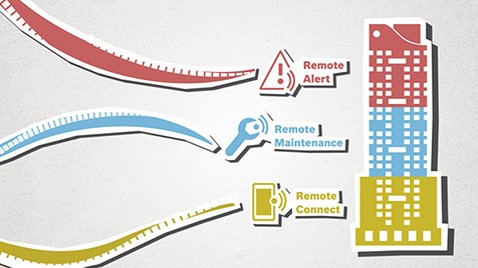 Manage your fire systems secure and quick   
Remote Services: for Fire Alarm Systems includes:
 Remote Alert: SMS and Email notification
Direct from Fire Alarm Panel to responsable
Persons, System Integrator or to                                                                Fire Brigade
Remote Maintenance: Inform direct System Integrator 24/7 in seconds for more efficient Maintenance.
Remote Connect: Enable Remote and Secure access on Fire Panel.
Remote Services over IP
In our everyday mission to empower you with innovative services for increased efficiency and profitability, we have created Remote Services. Remote Services for fire alarm systems is the combination of single services that enhances your business operations with improved all-around performance:
•
Access: 
Remote access for programming and maintenance
•
Planning: 
Better planning for maintenance and upgrades
•
Efficiency: 
Optimized team efficiency and resource allocation
•
Performance: 
Innovative, high-performance services to customer 
•
Savings: 
Reduced costs and time
spend
---
Intrusion Alarm Systems
Intelligent intrusion detection is a delicate balance between rapidly responding to real security breaches and ignoring costly false alarm triggers. 
Bosch Security Systems' award-winning detectors set the standard for reliability and rapid detection with superior false alarm immunity.


---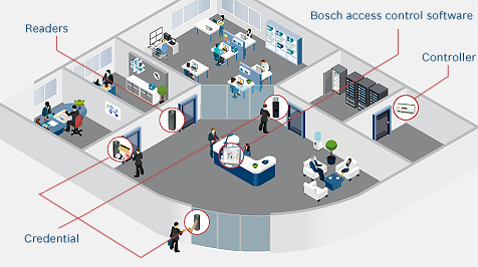 Experts in the security industry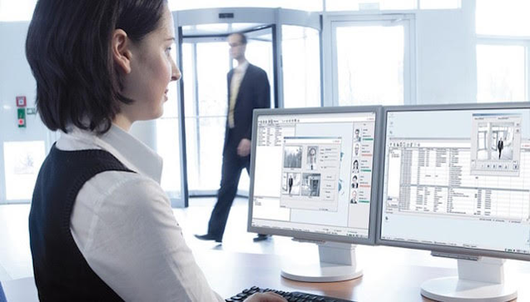 Your choice for a reliable access control solution

 

Access Control is a key pillar of today's security. The growing need to control access to buildings and areas, more flexible working time models and the limitations of mechanical locks make a modern and reliable access control system indispensable. Bosch offers complete, reliable and scalable access control solutions for any medium to large sized application.
---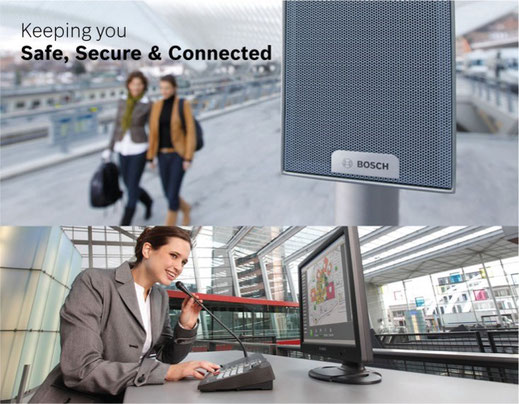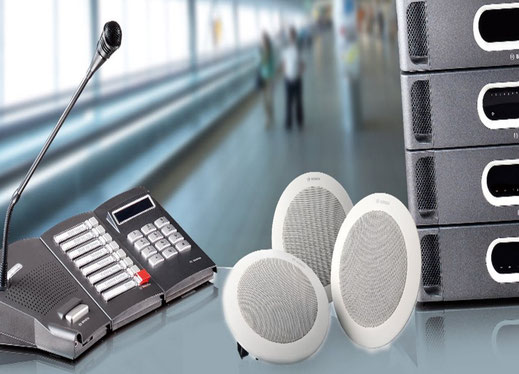 Get all messages across, no matter what
With more than 60 years experience in designing and developing communication products, Bosch has established unrivalled leadership in the field of public address and voice alarm systems. To be truly effective, a public address and emergency sound system must deliver exceptional performance and reliability. The company has provided systems and components for major transportation terminals, houses of worship, public buildings, office buildings, schools and shopping malls around the world.
---
Conference Systems
With Bosch conference systems, you can be assured all your messages are heard with clarity. From intimate informal meetings, to major multi-lingual conferences with thousands of delegates, Bosch Conference Systems facilitate effective interaction and communication in a way that suits everyone. Bosch Security Systems- One Stop Shop for Safety, Security and Communication needs.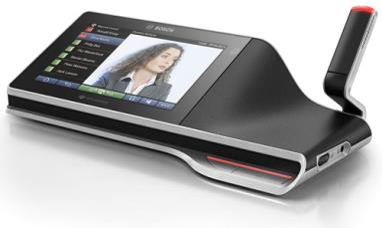 DICENTIS Conference System
Our revolutionary DICENTIS Conference System integrates audio, video and meeting content with internet access in one single system and is based on the unique IP-based OMNEO media networking technology developed by Bosch.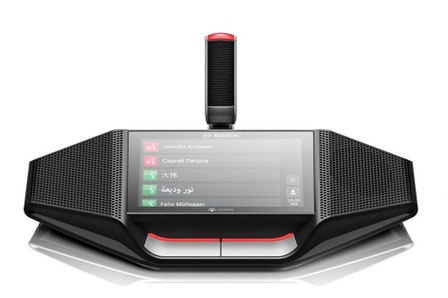 DICENTIS Wireless Conference System  
Our DICENTIS Wireless Conference System is an innovative system based on standard Wi-Fi technology and smart wireless management to ensure interference-free and highly flexible wireless conferencing.

DCN Conference Solutions
Our DCN Conference Solutions offer versatility, high audio quality and data transmission while providing complete control over your conference proceedings
CCS 1000 D Digital Discussion System
Our CCS 1000 D Digital Discussion System is compact, easy-to-set-up, and easy-to-use. Yet it provides advanced features and exceptional versatility making it the ideal solution for small-to-medium-scale meeting areas.
CCS 900 Ultro Discussion System
Our CCS 900 Ultro Discussion System offers new design features and extra functions, including a patent-pending "Possible-To-Speak" indication
Integrus Wireless Language Distribution System
Our Integrus system is an infra-red language and audio distribution system that provides the users with versatile language and audio distribution
---
BIM stands for Building Information Modeling, the process of generating and maintaining a digital representation of a building and the project it entails. BIM includes software, CAD and 3D, but it's not only these things. Rather, BIM focuses on the process of fostering better communication and collaboration among all the parties that make a complex construction project come together.
BIM files for a number of Bosch security products are available for your project in Autodesk Revit format today, with files for additional products to follow.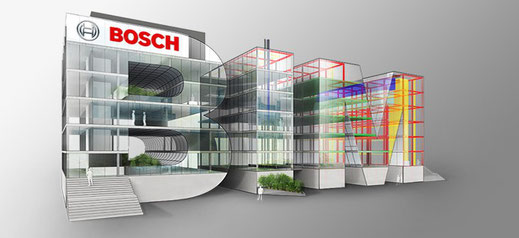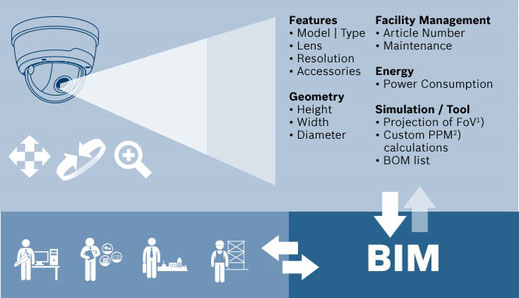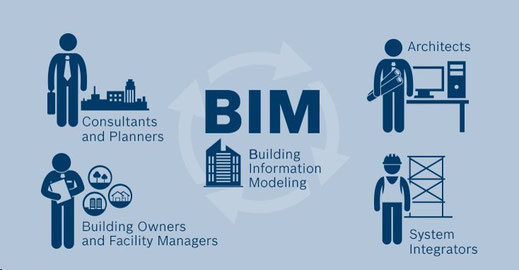 ---
Our portfolio includes various remote programming softwares  which offer a user-friendly interface between PCs and our panels
  Maximize planning 
 with Bosch and BIM
  Bosch Planer Software for Fire Alarm